Husband and wife team Robert Allen and Holli Ehrlich are proud to bring you the first and only place on the web to download bridal specific podcasts and listen to firsthand wedding advice from newlyweds and wedding professionals. With over twenty years experience in the wedding industry they are pleased to present a fresh approach with original, entertaining programming exclusively for couples who are planning their wedding.

Robert and Holli, co-founders, realized with the advent of the ipod and portable mp3 players that they could create relevant content that brides could listen to not found in traditional media. Their podcasts are educational, inspirational and entertaining. Their hopes are to liven up weddings for a new generation of savvy brides. They guarantee you will experience something truly new and exciting.
Robert and Holli have been partners in marriage and professionally involved in the wedding industry for 17 years. They are proud to be laying the foundation for something new. It's exciting to be on the ground floor of something rewarding. Wedding Podcast Network is a chance to become part of a new community that will come to know the joys of podcasting.
They hope you enjoy the site as much as they do!




Robert Allen – founder and executive producer
Widely regarded & respected award winning videojournalist since 1985.
Produced wedding documentaries for the Kennedy family, Geraldo Rivera, Allen Iverson, Peter Lynch
Prides himself on educating the discerning bride and industry with honesty & integrity
Works with many professionals in the wedding industry
Credited with The 30 Minute Edit and The Retrospective
Inducted into the WEVA Hall of Fame 2002
Received Bob LeBar Vision Award
Named to the Event DV 25. Those named are considered to be the most influential videographers in the field.
Host - Wedding Podcast Network

Holli Ehrlich – founder and marketing director
Happily married to Robert 17 years
Mother of two children Lindsey & Alex
Passionate about life – fashion, cinema, music, theater, home design, exercise, tennis,
shopping and of course – weddings.
Before met Robert had a career as buyer at Bonwit Teller &
Marketing director Material Information, a home fashions magazine
Host - Wedding Podcast Network




We invite you to engage your ipod in something new. Downloadable audio gives you the opportunity to control which programs you hear, when, and even where. Over the coming months we'll be adding new programs to our podcast list. Stay tuned.

Wedding Podcast Network features the largest, most comprehensive selection of original wedding talk radio programs including:

newlywedcast – hear the sagas of brides as they recant their own wedding experiences firsthand. From engagement fairy tales to nuptial anecdotes, pre-wedding interviews and post-wedding follow-up, see how it all unravels through these insightful stories of romance, emotion and love!
grooms with a view – who says the groom can't help arrange a wedding? Guys don't want to stand on the sidelines. Hear concerns that many grooms share. Discover ways to get involved, prepare and participate in the big day. Helpful planning advice from the male perspective.
meet the masters – distinguished lineup of wedding professionals – cake, event & floral designers, hair and makeup experts, photographers, videographers, wedding consultants and much more. Premiere authorities share thoughts and insights for brides everywhere.
lovecast – useful relationship advice. Learn how to manage the stress of wedding planning, accept differences, communicate, and resolve conflicts. Important life lessons, valuable information and topical discussions about your significant other and each other's families.
wedding workout – get pumped! get motivated! become a buff bride. firm up and slim down. Advice on how to lose a size and get gown ready before your walk down the aisle. Fitness focused podcast with great workout tips.
bridal scene – the wrapup show. Hear what's hot and happening in the world of weddings. Listen to highlights from that week's featured podcasts. Bridal tips, advice, interviews.

planet bride – Michelle and Henry Roth, sister and brother design duo, share their three generations of family bridal tradition and take you on a unique wedding planning journey. Hear how to get real and how to deal from a pair that know the wedding business like no other. Exclusively on Wedding Podcast Network.

here come the moms – Finally, moms gets their most important wedding-related questions answered! Co-hosts, wedding author Sharon Naylor & Holli Ehrlich provide the latest information for the mothers of the bride and the groom. Show topics include the new roles and rules for parents, fashion trends, etiquette Do's and Don'ts, and conflict resolution tips. Brides and moms will learn how to work harmoniously for the perfect wedding experience.

it's your wedding – a dynamic, cutting edge program with Samantha Goldberg, veteran wedding planner, bridal expert and star of Whose Wedding Is It Anyway? on the Style Network. Samantha takes live calls from brides discussing a wide variety of wedding planning issues. Samantha has the answers to your questions about your wedding.

travel talk - your passport into the wide world of destination weddings and honeymoons. Discover different places and cultures with travel experts, editors, authors, event planners, and real couples ready to share their firsthand experience and advice. International resources are at our fingertips and Wedding Podcast Network promises to bring them to you. Travel Talk will help make the planning less complicated and more fun.




Help us become the authority on wedding podcasts by adding a link to us from your website.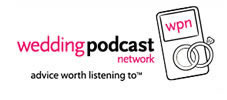 The podcasts featured on Wedding Podcast Network are selected by our executive producers. We receive many requests from companies that want to be featured on our shows. We retain the right to be selective. We're very discriminating because our listeners demand the very best.